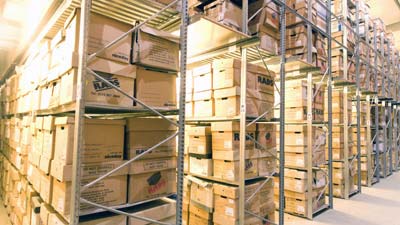 When striking a new working relationship, it is natural for you to have a number of questions before you make any commitments. Different businesses will have different questions, tailoring what they want to know to their individual circumstances and anything that could individually apply to them.
Having said this, we have created some non-specific questions that every business should look to put to their potential new document storage providers
Blog Contents:
What are the benefits of your offsite document storage?
Remote document storage offers a wide variety of benefits to businesses, and so before embarking on the partnership, you should be sure of exactly what they can do to help your business, as well as offsite document storage as a whole. A business can expect to receive the following benefits of remote document storage and many more:
Business data security
Increased productivity amongst employees
Easier access to data
Great satisfaction of services provided
Can I save money by using a document storage service?
Almost all document storage companies will suggest that you are able to save money by using the document storage service that they provide. This is because businesses are able to make savings in a number of areas, including reducing office space, less need for administration and any tools needed to destroy unwanted and outdated documents. To ensure that these costs can be saved, an agreement needs to be set out that identifies the costs of the storage, allowing you to make decisions on how you are going to be able to make savings.
What process do you have for the storage and retrieval of documents?
Something that is very important to understand is how your documents are going to be stored and what impact this has upon retrieval of your documents, if any at all. Most providers will have their own system in place that manages individual boxes of documents, tracking the current and past locations of the box, as well as any other relevant information about the box that is on file.
Having such a system will also provide easy retrieval of individual boxes of documents, allowing the company to easily locate where it is, so that it can be accessed instantly. The provider also then has the opportunity to outline how your documents will be stored, which is typically in specially designed boxes that are located within securely protected premises.
How secure are your businesses premises and operations?
Within the document storage industry, security and protection is a vital part of choosing which company to trust. Finding a business with all of the correct regulations and legislations in place is all well and good, but physical measures are essential to convincing you that you can trust your documents with this specific company. Typical security measures that you should expect to be in place include manned security, active alarms, monitored CCTV systems and health and safety precautions.
Are all of my business requirements met?
In order to receive the best service possible, your business requirements should be met and the company in question should go above and beyond to provide the very best service that they can. These requirements should include being flexible to the way that your business operates, but also any requirements that your business has from working within a specific sector or under any regulatory bodies.
It can also be very useful to enquire whether the service provider will check retention dates of documents, and advise you on the next steps for upcoming retention deadlines.
Are your services environmentally friendly?
Businesses throughout the UK are more conscious about environmentally friendly services than ever before, particularly as it can have a big impact on the reputation of your business. More of the general public are considering the environment and only give their custom to worthy businesses that operate in an environmentally friendly way.
Providers within this sector will usually have the correct credentials and be fully compliant, but it is still a great idea to question their business stance on the environment and how this is reflected within the services that they provide.
If you're looking to organise important documents in your business, get in touch with our professional team who can give you advice on which services will suit your needs best. You can also request a quote to receive more in-depth information for the service you're interested in using.