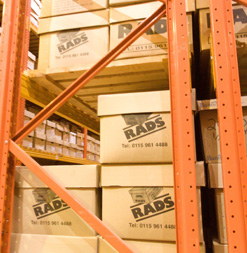 RADS' secure document shredding service gives you the chance to have your unwanted or expired documents professionally, securely and precisely destroyed by industry experts.
After receiving written instruction from a pre-approved contract between us and the business, we will undertake the document destruction.
Document Shredding
We offer you the ability to have your unwanted documents destroyed at a very reasonable price, with the secure document shredding being undertaken confidentially by professionals and recognised with an authentic certificate.
Our secure document shredding services mean that you are able to free up space within your office, without the need for a secure storage contract.
Our document shredding process can assure you that your documents are destroyed properly, in an environmentally friendly way.
To ensure that your documents are fully disposed of, they will be cross-shredded, bailed and recycled for use in toilet paper and other recyclable goods.
We can also provide containers specifically designed to store the secure document shredding waste or simply work with any containers that you currently have at your premises.
What are the benefits of Document Shredding?
You may consider document shredding for several reasons, one might be you want to free up more space in your office and feel more organised.
Shredding documents allows you to do just this. By shredding unwanted or outdated paperwork you can ensure paperwork is not only out of site but also out of potential hands that don't have authorisation to view those documents.
Depending on your sector, document shredding can provide a clean slate. Document destruction in the educational sector for example, will allow for schools and universities to cleanse filing cabinets of previous students, who are no longer studying and ensure up-to-date information is present only.
What items do we destroy
Here at RADS, we offer confidential and secure document shredding on many different items and materials that your company may be in possession of, including:
Business documents
Waste paper
Clothing
Cardboard
Plastic
Books and Magazines
Newspapers
Scanboard
CD's and DVD's including all packaging
As well as secure document shredding, we offer document storage services and document scanning services as part of a tailored document management solution for your business. For more information or to enquire, call us on 0115 9614 111 or send an email to info@radsstorage.co.uk.