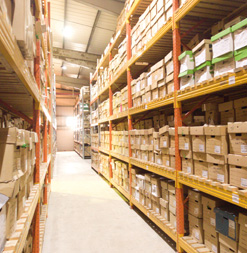 At RADS, we use a unique box referencing system, which feeds in to our self developed cloud management system. The cloud management system helps us to manage the inventory of all our boxes and documents so we can reference and retrieve documents with ease.
How our Box Referencing System works
We are constantly looking for new ways to develop and improve our document reference system, investing time and money to ensure that the system grows with our client base. This includes ongoing reviews of our IT processes and monthly improvement meetings with the rest of the team, making sure that our system is constantly meeting and exceeding our customers' expectations.
Digital Tracking
All items in box referencing system are computer indexed, and unlike other storage services, there is no additional charge for bar coding. The RADS team of experienced archivists manage all the stored material, using a sophisticated document reference system to record each incoming document or box. We issue inventory printouts and track the movements of all documents within the building at all times so we always know exactly where all our customers' boxes and documents are.
Each item is individually bar coded the bar code will tell us the whole history of the box. Security arrangements include perimeter and intruder alarms, CCTV, and smoke and fire detectors. All of which are monitored 24 hours a day.
Custom Referencing
As well as offering open box file retrieval and full archive management, we can also offer a custom document reference system for our clients. We can collect your documents and create electronic copies of each file, each with their own unique and custom reference so you have your own simple referencing system so you can retrieve your documents quickly and efficiently.
Security Tagging
We can also provide you with a closed and secure box system, with security tagging of all storage boxes which are tamper proof, giving you the peace of mind that your confidential documents haven't been accessed by anyone else.
If you're interesting in finding out more about our secure box referencing service for all your document storage needs, feel free to enquire, by calling us on 0115 9614 111 or send us an email to info@radsstorage.co.uk.