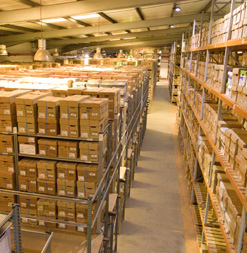 RADS have a proven track record in archive management and secure document storage in East Midlands with many large organisations and smaller companies as customers from both the public and private sectors.
Businesses are obligated to keep most documentation for a statutory period, RADS meet this growing need and with the rising cost of office space provide a cost effective archive document storage solution.
RADS pricing system is straight forward, we charge one per box per annum fee (billed monthly in arrears), all retrievals, bar-coding, and administration is included and also…
91% of employees feel they could be more productive if their work space was less cluttered and more organised.
What is document storage? 
Document storage is the process of storing documents in a processed order to keep them safe and secure. Document storage services are designed to securely store information within documents and managing the storage effectively to keep them safe and protected.
Types of document storage
A few examples of documents that can be securely stored are on-site document storage and digital document storage.
Onsite storage is when documents are securely backed up within equipment, such as hard drives or discs to ensure all significant information is stored safely onsite. Digital documents, such as Word documents and PDF files are often stored securely on cloud storage accounts to keep non-physical documents protected.
What are the benefits of Document Storage?
Free Deliveries and Collections – This means customers can budget easily and are assured that there are absolutely no hidden extras or set up costs.
The risk of theft or mishandled paperwork will be reduced.
Storing documents and paperwork remotely can free up space within your office, improving productivity and efficiency of staff.
Why Choose RADS?
We are ISO9001 accredited, fully comply with the Data Protection Act and all our staff are CRB checked.
All archive document storage paperwork is bar-coded and the details entered into our database tracking system which shows all the information required for identification and retrieval, the current location and a complete movement history.
Your documents are now very safe, easily accessible and available 24/7 and you also have more space available for functional cash generating activity.
As well as secure document storage, we offer document scanning services and document shredding services in East Midlands as part of a tailored document management solution for your business. For more information or to enquire, call us on 0115 9614 111 or send an email to info@radsstorage.co.uk.