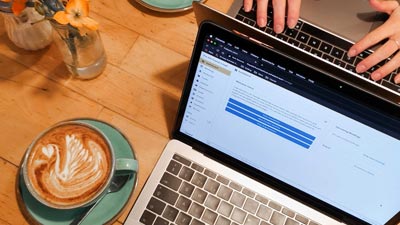 For most businesses working from home for long periods of time is never truly considered and why should it when it's not every day the world experiences a pandemic.
Businesses can however, still plan for their employees to work from home through simple organisation to ensure everyone has online access to the files and documents they need to hopefully, keep services or products active as much as possible through these unprecedented times.
Even if you have had to make the difficult decision to close your business for the time being, preparing for the future can also make a positive impact in how your business can work remotely.
Digitise documents for remote access
Without realising it, you may have accumulated piles of physical paperwork around the office, which under normal circumstances, you would grab out of a filer or grab from your desk when needed, but what happens when you're now working remotely and need other employees to have access to certain documents?
Whether it's for the present or the future, digitising documents either through your own scanner at home or through an external document scanning business can help to create a much easier way for your employees to have access to certain documents, processes and important paperwork which will begin to streamline your business.
Creating digital copies of documents also has other benefits besides being easily accessed by staff. If you begin consider this process now you'll find that your employees will save huge amounts of time when working.
Imagine finding a document you need, as quick and as easy as is it takes to search for something on Google. By digitising documents, different departments of your business can access the files they need with just a few clicks.
Accessing digitised document via Cloud storage
Of course once you've created digital copies of the documents you need to access remotely, how do you go about ensuring everyone can actually access them?
Cloud storage applications such as Google Drive or Dropbox gives you the ability move, open and edit documents, spreadsheets, forms etc. via one location that can accessed by all. This can be achieved through secure logins, so only those who are authorised to view such documents, can.
The other great thing about Cloud storage is the ability to edit documents in real time, avoiding any unnecessary overwrites or copies of the same document. Every person who has access to documents can make live updates, keeping everyone in the loop at the same time.
Improvements for the future
No business could predict that they could be working remotely from home for several weeks or even months, however that doesn't mean businesses can't. With a bit of creativity, research and organisation you'll find that certain office roles and tasks can still be completed at home.
Keeping regular contact with your remote staff will help you stay up-to-date with the general goings-on in your business and if you need to identify any areas of communication or administration that may need improving as you continue to work at home.
New process documents or forms that may have been created as a result of the Coronavirus can now be saved, edited and improved via your Cloud storage system and join your more efficient way of working.
Need help digitising your business documents?
This a difficult time for many business owners and their employees but there is a way you can stay connected and work efficiently at the same time. Whether you would like help now or wish to plan for the future, learn more about our document scanning service or contact our team for more help and advice.