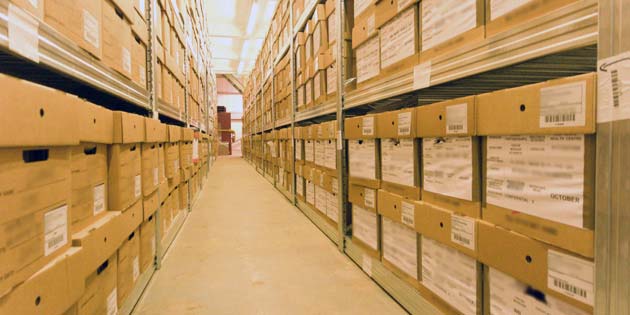 Businesses across the UK are choosing to use remote document storage as a better alternative to in-house document storage, bringing a whole host of benefits to the protection of their business documentation.
Senior management staff are becoming much more aware of the benefits that are attached to remote document storage, but more so the abilities that remote storage has when compared to in-house document storage.
Blog Contents:
Remote Document Storage vs. In-House Document Storage
Remote storage has a host of benefits when compared to in-house storage, and so comparing the two is essential when deciding upon what your business should choose to do. There are a variety of potential issues to consider when deciding between the two:
Theft of Documentation
Document theft can be very detrimental to your business and how it proceeds within the future, particularly because it can have a real effect on the success of your business. The problem faced by having in-house document storage is that not only do you have the threat of outsiders stealing your documents and your information, but also the possibility that bitter or angry employees could leak and steal the information that your business documents hold.
By moving your document storage to an offsite location, you are able to remove the potential of data being stolen. Such locations are typically secure, monitored by security and CCTV systems to ensure that the documents are being watched over and protected 24/7. Although an unlikely event, if somebody was to attempt to steal any documents from within offsite storage locations, the CCTV and police alarms are on hand to prevent a catastrophe. Unique management systems and barcode tracking are also in place so that the documents placed into remote document storage can be assured high level security.
Environmental Damage and Unforeseen Disasters
Although not so common within the UK, a natural disaster could be very problematic to a business that stores their documents in-house. As the business may not take such consideration into the storage of their documents, they are always at more of a risk to any environmental damage or disasters, particularly when stored in basements, attics or warehouses.
Remote storage takes specific steps to ensure the protection of your documents, creating a more reliable option by storing the documents in an organised and systematic way, within a protected environment. With features such as temperature control and scientifically designed boxes, your documents are protected from any damp or humid conditions. A business using remote storage rather than in-house storage will have the confidence that their documents and sensitive information are protected, no matter what happens at their own premises. This also means that the health and safety of your working environment can be looked after more, creating fewer hazards such as tripping and fire risks.
Human Error
Human error is a common occurrence within the workplace, leading to the loss and damage of many important documents. This potential is often removed by creating an in-house filing system that holds a large number of documents with sensitive information in. However, creating such filing systems can not only be initially hard to begin with, but they can also prove to be difficult to work with when looking to locate an individual document and also when in need of quick access to something specific. If a document is indeed to be misplaced or damaged by an employee, such a system will not be able to determine who was last in possession of the document, and so it could be difficult to identify the culprit.
By using a remote storage company, modern procedures and technology will ensure that detailed inventories of all client documents are kept, with movement and location of the documents tracked at all times. Document storage companies also typically offer a scanning service, so that you can free up space within your office and use the space for more productive reasons, whilst creating digital copies that provide easy access to information.
Overall, an offsite storage facility is a much better option to house your documents, specifically due to the fact that they have been especially built for the storage of documents, and so protective measures have been created in order to ensure ultimate security at all times. Unlike a remote storage facility, in-house storage can lead to a number of problems when storing your documents, meaning that choosing an offsite location really is the better choice!
If you're looking to organise important documents in your business, get in touch with our professional team who can give you advice on which services will suit your needs best. You can also request a quote to receive more in-depth information for the service you're interested in using.