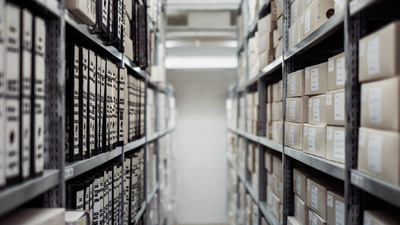 Offsite document storage isn't anything new but perhaps it's not utilised as well as it could be by many companies who choose to store every piece of written or printed document they create in a storage cabinet that's simply not retained properly.
Storing document externally has tons of benefits, not just from a office-space point of view but also from a work-morale point of view, which in some cases you could argue is just as important as having a clean office, the truth is, these two factors have to work together.
How your documents are stored offsite
Depending on where you choose to store your documents, there could be different processes with each business. Most document storage companies will collect your documents (we even offer a free collection service) and will begin an archiving process once returned to the storage facilities.
The archiving process allows for documents to be stored by either a specific code, date or reference number with the benefit of being able to retrieve specific documents, when you need them. This is incredibly helpful as it saves you the job of searching through tons and tons of files and essentially wasting productive work time.
This is just one of the reasons that off-site document storage is more beneficial to businesses, small and large who tend to have large amount of paperwork which might hold all sorts of data, not just personal.
Off-site security
This leads me into my next point about security. Depending on where your office is located, you could be part of a business park which has its own security measures or you might own your own individual building, which again you have installed your own security system to prevent break-ins etc.
This might not compare however, to the type of security an off-site document storage facility will have installed. For example, here at Rads Document Storage our premises are monitored by security alarm and CCTV systems, which are watched 24/7 to ensure no unauthorised bodies can enter the building.
Having a remote facility with the type of security measures we have put in place, will help to prevent theft, break-ins and even damage to paperwork from fires for example, as we have fireproof vaults. This might not be the case for most commercial buildings, where paperwork and documents could still be a risk of being stolen or damaged by fire or water damage.
Why off-site document storage is in your benefit
Aside from the obvious points I've made such as space and security, opting to store your documents off-site gives you better opportunities to consider document retention (especially due to GDPR) which can be a lengthy processes for some business, especially those that perhaps haven't taken the time to do so.
Whether you're in the healthcare sector, banking sector or even the university sector, document storage is helpful in endless ways and it's not just there for paper documents.
The university sector for example, we know have lots of branding and advertising materials which may include lanyards, posters and more promotional items which need to be stored away until the next event, without clogging up space within a much needed office somewhere in the university.
Enjoy the benefits of off-site document storage
If you know your business would benefit from off-site document storage, feel free to get in touch with our team. We can explain in more details the service and benefits you would receive as well as the different types of documents you can store in our security facility.
Looking for something else? We can also provide other document management services including, document scanning and document shredding.